Most things in this day and age are getting smaller: crisps, chocolate, computers and now endoscopes. Whilst the traditional endoscope is still used in most clinical investigations, a new kid on the block is now emerging. With a completely different, convenient and minimally invasive approach PillCam® could also provide more information than traditional endoscopy.
Using advanced miniaturised technology, PillCam consists of a miniaturized camera and light source contained in an easy-to-swallow and disposable capsule. Once ingested it takes high speed images of the entire digestive system. These are then transmitted to a data recorder as it as it works its way through, helping doctors to identify any irregularities.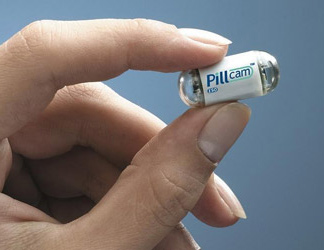 Faecal calprotectin has become established as a reliable biomarker to effectively differentiate between patients with IBS or IBD, with 93% sensitivity and specificity of 96%. However, approximately 9% of patients tested for calprotectin give a 'false positive' result. When tested, their faecal sample may present a high calprotectin concentration, but gastroscopy and endoscopy results appear normal. The PillCam is being used in a study at Luton and Dunstable Hospital to investigate those patients with false positive calprotectin test results.
Initial findings are being presented at DDF in June 2015 and suggest that a proportion of these patients may have Crohn's in the small bowel. This would not be detected by traditional endoscopy and gastroscopy methods (Poster reference: DDF15-1864).
We shall wait with interest to see the full findings of this study.