Understanding Calprotectin – Information for Patients
Why has my doctor requested a faecal calprotectin test?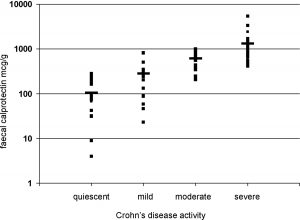 In the blood, red cells perform the vital role of delivering oxygen and removing carbon dioxide from around the body by virtue of the haemoglobin they contain. The role of white cells is to help defend the body against infection and foreign substances. Calprotectin is a protein that is found in white blood cells and it has strong antibacterial and antifungal properties. There is as much calprotectin in the white cells that carry it, as there is haemoglobin in red cells.
Calprotectin is activated when inflammation occurs (whatever the cause of that may be) and thus can be used as a diagnostic indicator. The concentration of calprotectin relates directly to the severity of the inflammation. Figure 1.  represents  the calprotectin concentrations measured in faecal samples from patients diagnosed with Crohn's Disease and shows increasing levels with progression of the condition.
Thus, when lower abdominal symptoms exist, a faecal calprotectin test is used to identify whether an inflammatory bowel condition that requires further investigation, is the possible cause.