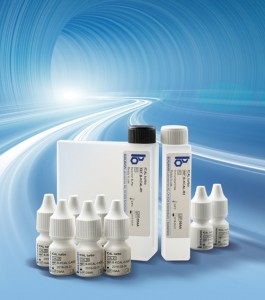 BÜHLMANN fCAL® turbo is a random access calprotectin assay for use on major clinical chemistry platforms.
Utilising immunoturbidimetry it  provides a very rapid and flexible solution for high throughput applications in the routine laboratory. fCAL turbo allows short turnaround time from stool sample to reportable result.
Speed: the fastest calprotectin test in the market.

Results in 10 minutes.
Broad measurable range 20 to 8000 µg/g calprotectin reduces the amount of retesting down to <5%.
Quality: The assay is standardised against the BÜHLMANN fCAL® ELISA, the same cut-offs can be applied. Particle-enhanced turbidimetric immunoassay (PETIA) further increases the precision and reproducibility of calprotectin quantification.
Flexibility: Immunoturbidimetric assays can be applied on any open clinical chemistry platform. This allows random access workflow which can be directly integrated into the existing laboratory infrastructure.
Use with CALEX® Cap device for easy and efficient stool extraction or CALEX® Track for complete automation
Available Application Protocols:

Abbott: Architect c-series, Alinity
Beckman: AU Series (AU400, AU480, AU640, AU680, AU2700, AU5400, AU5800), DxC 600/800
Mindray: BS-380, BS-200E, BS-400
Ortho: Vitros 5600
Roche: Cobas c111, c501, c502, c503, c701, c702
Siemans: Advia 1650/1800, Advia 2400, Advia XPT, Dimension Vista500/1500*, Atellica
Thermo Fisher: Konelab30i, Indiko
The Binding Site: Optilite
Horiba: ABX Pentra 400
IDS: iSYS
BioSystems: BA200